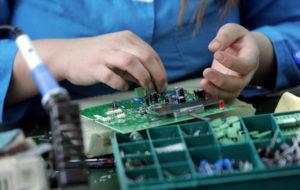 Vergent Products is an industry leader in providing highly-customized electromechanical engineering and manufacturing services. Since our founding in 1995, we have been at the forefront of technology, bringing almost anything to life. We have an extensive range of hardware design and electrical controls expertise and can provide you with a full range of services, including product design and development, mechanical engineering, electrical controls, digital and analog electronics, NPI process, and engineering and manufacturing services. We work with a wide range of industries and are always eager to lend our expertise to any industry with an interesting project.
Moreover, we are a manufacturing company that has been developing hardware products for nearly fifteen years. Over that time, we've learned a thing or two about how to efficiently create products from start to finish. Vergent Products helps clients from all over the world design, manufacture, and ship high-quality, complex hardware products. Our experience and intimate knowledge of the entire development process allow us to successfully design new products for our customers that are optimized for manufacturability.
Let us know how we can help you reach your goals!
The Importance of Product Design and Development.
Product design and development is something that is quite commonly overlooked by startups. The lack of investment they give into product design and development can be detrimental to their success. In this article, we'll look at the importance of product design and development and how investing in your overall product can have a positive impact on your startup long term.
The importance of product design and development cannot be understated. Product design is critical to the success of any company in any industry. The customer is the focus of product design and development, which is why it is so important to understand what your customer wants. Once you understand their wants, needs, and desires, you will be able to develop an item that is the perfect fit for them. It will be very beneficial to your product brand and business if you take the time to get to know your customer and to consider their desires. If you ignore your customers, it will come back to haunt you. Your customer's wants, needs, and desires may change over time as well, so it is important to adjust and change your product accordingly if needed.
The design and development of a product are important because the design process helps guide the overall look and function of a product. It is a continuous process that is used throughout the life cycle of a product. A product is a creation of a specific process where the design of the product is manifest and the development is the process of creating the product. Truly, it helps the customer in understanding the product and the overall design, therefore, making the product easier to use.
Kickstarting a Successful Hardware Product With Vergent Products
Vergent Products is a product development and manufacturing company with a worldwide reputation. We have the expertise to help you develop the right product at the right time at the right price. By working with Vergent Products on your next hardware product design, you'll have access to the industry's best electrical design, electromechanical design, and electrical controls.
With Vergent Product's experience in electromechanical engineering and product engineering development, we're able to fully develop your project with electrical control electronics to the final manufacturing stages. Our experience, product development process, experience with medical devices, and electrical and electromechanical engineers can lead to a product that is ready for manufacturing in a shorter amount of time.
Conclusion: 
Vergent Products has been perfecting the art of hardware design. We can help you with your next project, no matter how complex it is. We're a team of electromechanical engineers and product engineers located in Loveland, Co. Our website features more information on our engineering services, which include hardware design, electromechanical engineering, product engineering development, mechanical design, electrical design, electrical controls, NPI process, and more. Feel free to contact us if you'd like to learn more, or check out our portfolio to see some of our recent projects! Visit us now at www.vergentproducts.com