Contract Manufacturing
Printed Circuit Board Assembly (PCBA)
For over a two decades, Vergent Products has been committed to assembling high quality printed circuit board assemblies for our clients. Whether they ship as a final product or a PCBA alone, we produce PCBAs that meet even the most stringent requirements. Our passion for building quality into the PCBAs through strict process control, combined with feedback systems such as 100% automated optical inspection and in-circuit testing, help drive our pursuit of continuous quality improvement.
Fast turn protos through mid-volume
Automated Surface Mount Technology (SMT)
BGA and Fine Pitch Component Placement
Thru-hole PCBA Assembly
Wave (tin-lead) and Selective Solder (RoHS)
Multiple Solder Chemistry Options (No-Clean, Water Soluble, RoHS, Leaded)
IPC-A-610 Class 2 and 3
Advances Automated Cleaning Systems
Conformal Coating
Automated Optical Inspection
Broad Testing Portfolio (Parametric, Functional)
Device Programming
We take the responsibility of building your product very seriously. Vergent Products' manufacturing is segmented into specialized competency areas that accommodate a wide variety of products. Our flexible production lines incorporate thin client workstations for each assembler, providing work instructions, training compliance, material traceability, time tracking, and more!
Final Product Assembly
Vergent Products' viewpoint is to treat your product like it is our own. Our experience in a wide range of industries and technologies ensures that we will execute your product assembly challenge without surprises. As your product requirements change, we will change with you.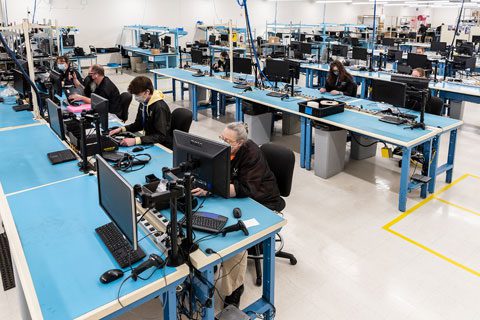 Fast New Product Introduction
High Velocity Lean Manufacturing
Wide Range of Product Sizes (board in box to large systems)
Complex Electromechanical Assembly
System Integration
In-Flow Programming and Test
Extended Test and Burn-in
Configure to Order
Custom Labeling and Packaging
Automated Serialization
Electronic Device History Record (DHR)
Data share
Program & Test
The test and programming of electronic products often seems to be left as an afterthought to the hardware design – something to be done after the design is solid when an engineer has time to get to it. That approach can lead to higher labor costs and longer time to market. In our experience, test and programming issues are one of the single biggest causes of product launch delays for our clients. Vergent's Engineering team can help with the development of your programming and testing procedures to ensure an accurate, time efficient, and robust process for volume manufacturing is implemented
Talk With One Of Our Experts
Do not fill out this form if you are a solicitor