Partnering with ThermalStrike On Decontamination solution for Medical Devices
(Loveland, CO) ThermalStrike and Vergent Products have joined forces to ramp production and delivery of a novel Decontamination System focused on reuse of N95 respirators. The device is ideal to decontaminate other small items such as stethoscopes, surgical masks, gowns, protective eye gear, and other medical apparatus.
The low-cost system, invented by ThermalStrike founder Michael Lindsey, utilizes a patented six-sided heating system to deactivate the Covid-19 virus. Users place their items in a personal processing box, label it with their name, and place the box into the device for decontamination. A thermal indicator provides assurance the items have achieved the required temperature to deactivate the virus. On-site decontamination eliminates the need to transport items and enables users to reuse their own items.
For more information and to place advanced orders please visit www.thermalstrike.com.
FDA Emergency Use Authorization is pending.
ThermalStrike, LLC (www.thermalstrike.com) is a Fort Collins, CO company with 10 years empowering people to protect their homes against bedbugs and more recently adapting the technology to protect healthcare workers.
Vergent Products (www.vergentproducts.com) is a leading provider of high-discipline product design and manufacturing services located in Loveland, CO with certifications and capability to service medical, aerospace, and high-performance industrial markets.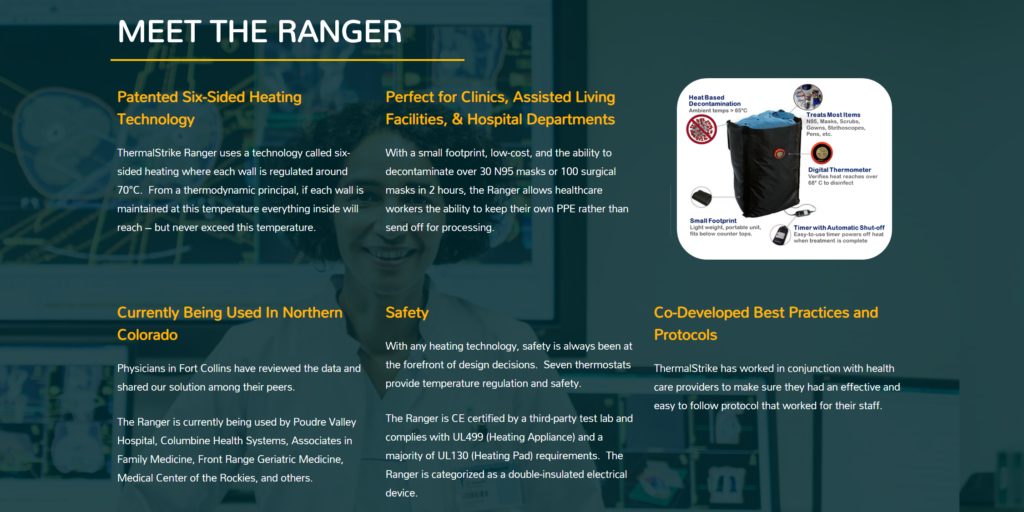 Categories: Blog, Manufacturing, Medical Devices