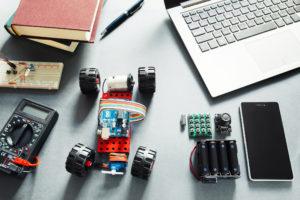 At Vergent Products, our goal is to provide businesses and organizations with access to advanced product design and engineering solutions. With a deep understanding of technology and extensive experience in the design and manufacturing of electromechanical products, we have an unparalleled depth of expertise in the field of hardware design. We have designed, developed and manufactured an extensive array of hardware ranging from industrial automation to medical devices and deliver products to leading companies worldwide.
Vergent Product is a development firm providing engineering services to many different industries. Consisting of a highly qualified team of engineers, scientists, and business professionals, our firm specializes in the development and engineering of physical products and their associated processes. We can design and engineer the right solution to fit your application.
On top of that, Vergent Products is the leading agency in the electrical and mechanical engineering of high-tech products.  Combining the latest and greatest technologies with business savvy, Vergent Products can bring any idea or product to life! With experience in medical, industrial, and agricultural fields, we provide a wide range of services from concept to commercial production.
Our Philosophy: 3 Kinds of Innovative Thinking
Developing thinking that's 3 kinds of innovation is no easy task. 
We must think efficiently because time is often a limiting factor for most projects. 

We must think creatively because innovation is often driven by the desire to produce something unique, not just new.

Finally, we must think in a practical manner so we can design something that's viable and effective. 
We at Vergent Product understand this, and we know that to achieve our goals, our philosophy of innovation must be diverse. We've put all of our creativity, innovation, and practical thinking into this product. We can't wait to show you what we've developed!
Moreover, we take a very technical approach to solving problems. Our talented team of engineers, hardware and software engineers, physicists, and system designers are constantly working to develop new technologies that will help us to create products that are faster, better, and smarter than anything our competitors are able to offer. In fact, there's always a competitive advantage to having a great team of talented professionals. When we're able to hire and recruit the best team, we can rest assured that we are getting the most up-to-date technology and that we will be the best in the industry.
Why Vergent Products is the Right Partner for You?
Vergent Products is a pioneer in the creation of electromechanical products driven by software, firmware, and electrical controls. With their roots in software and services, their expertise lies in integrating electronics, software, and mechanical systems of varying complexities with top-level medical, industrial, and defense applications, including the National Institutes of Health and the Department of Defense. 
Additionally, Vergent Products group has been a leading provider of technology and expertise for over 25 years. In that time, we've accumulated a wealth of knowledge in the field of engineering and design and we're eager to share that with you. We're always looking for new challenges, and we have the technology, expertise, and creativity to bring your product to life. If you're looking for a quality partner to do your electromechanical engineering and product engineering development, look no further than Vergent Products group.
With a team of engineers and manufacturing experts, Vergent provides development services and turn-key manufacturing solutions for custom electromechanical devices, including single-sided and double-sided circuit boards, complex electromechanical assemblies, and mechanical engineering.
Vergent Products in Action
At Vergent Products, we believe that there is a better way to handle hardware design. Our engineers are passionate about automation in all its forms. We take a proactive approach to product design and development. We operate with an eye on the present, but we always keep the future in mind. We combine your ideas, our experience, and the latest in technology to bring the smartest, most reliable products to market. Our goal is to provide you, the client, with a seamless experience from beginning to end. We're always on hand for you, whether you're seeking a pre-development feasibility study or a full-blown, multimodule operation.
Indeed, Vergent is an established manufacturer that you can trust to deliver on its promises. While some of our competitors will only work with verified companies, Vergent is willing to work with startups as well as larger corporations. Over the last decade, Vergent has developed a variety of products for medical devices, aeronautical design, and even automotive engineering.
Conclusion: 
When you have a brand-new product idea, you need the help of an experienced engineering contractor, who can provide you with consulting and engineering services as well as cost-effective solutions. Vergent Products is a design and engineering firm that offers services across the whole process of bringing new products to life, from conceptual design and prototyping to mass production. Whether you need help with a product or electrical design, or you're looking for a cost-effective solution for mass production of your medical devices
Here, Vergent Products can get you started quickly and help you bring your product to market on time and within budget. Instrumental in the success of many projects, we are the right partner for companies wanting to bring their products to life.